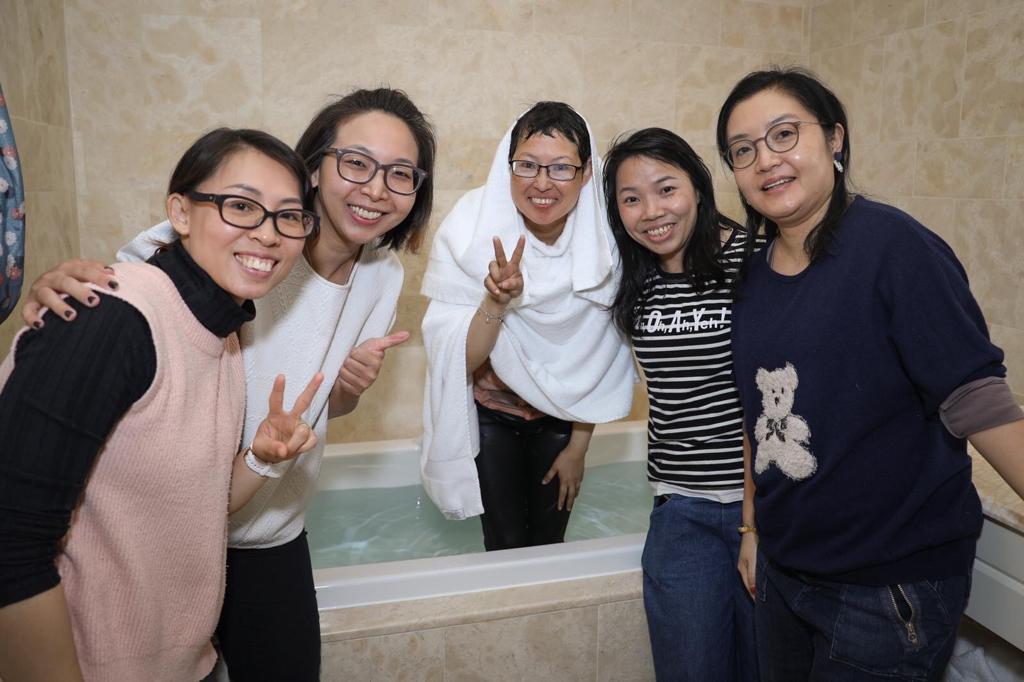 Iris Ng (middle) was baptized on January 19, 2020 Iris Ng (an elder sister of Cherry, our sister in church) grew up in a big family with seven siblings. She had been highly treasured and appreciated by the family, though she complained whenever someone in the family disagreed with her. Sadly, such complaints mounted up over the years, so Iris began to withdraw from the family. In the past decade, she hardly communicated with the family even if she lived with them.
In 2018, Iris collapsed due to breathing difficulties. She was diagnosed with terminal cancer. The doctor summoned her family to the hospital for a final farewell. It was at that moment that Iris realized that she must let go of her 10-year grudge. Thank God that the story did not end there. She survived the critical stage and went on receiving treatments. The relationships between her and the family members improved gradually as well. Her younger sister, Cherry, began to send her sermons through Whatsapp.
When Cherry invited Iris to the Family Day Dinner activity in March 2019, Iris gladly accepted it. She got to know some sisters in church and started to study the bible.
It was not the first time Iris got in touch with a church. She had been in a church for some time during her adolescence. But, it was the first time she opened the Bible with a heart to seek God. When she came to the study of sin, she realized how selfish, jealous and prideful she had been, and began to understand how her unforgiveness and stubbornness had hurt her family. She was so deeply touched by the love of Jesus that she decided to apologize to her family. As she had more quiet time with the sisters, she came to understand that responding to God's love is far beyond going to the church and caring for others, for it requires an eager heart for knowing God increasingly more and listening to Him under whatever circumstances. Bit by bit, she began to enjoy knowing more about God.
We thank God that Christ's love has cured Iris and encouraged her to confront her life. Now she has given God top priority in her life and surrendered to Him. All glory to our God!