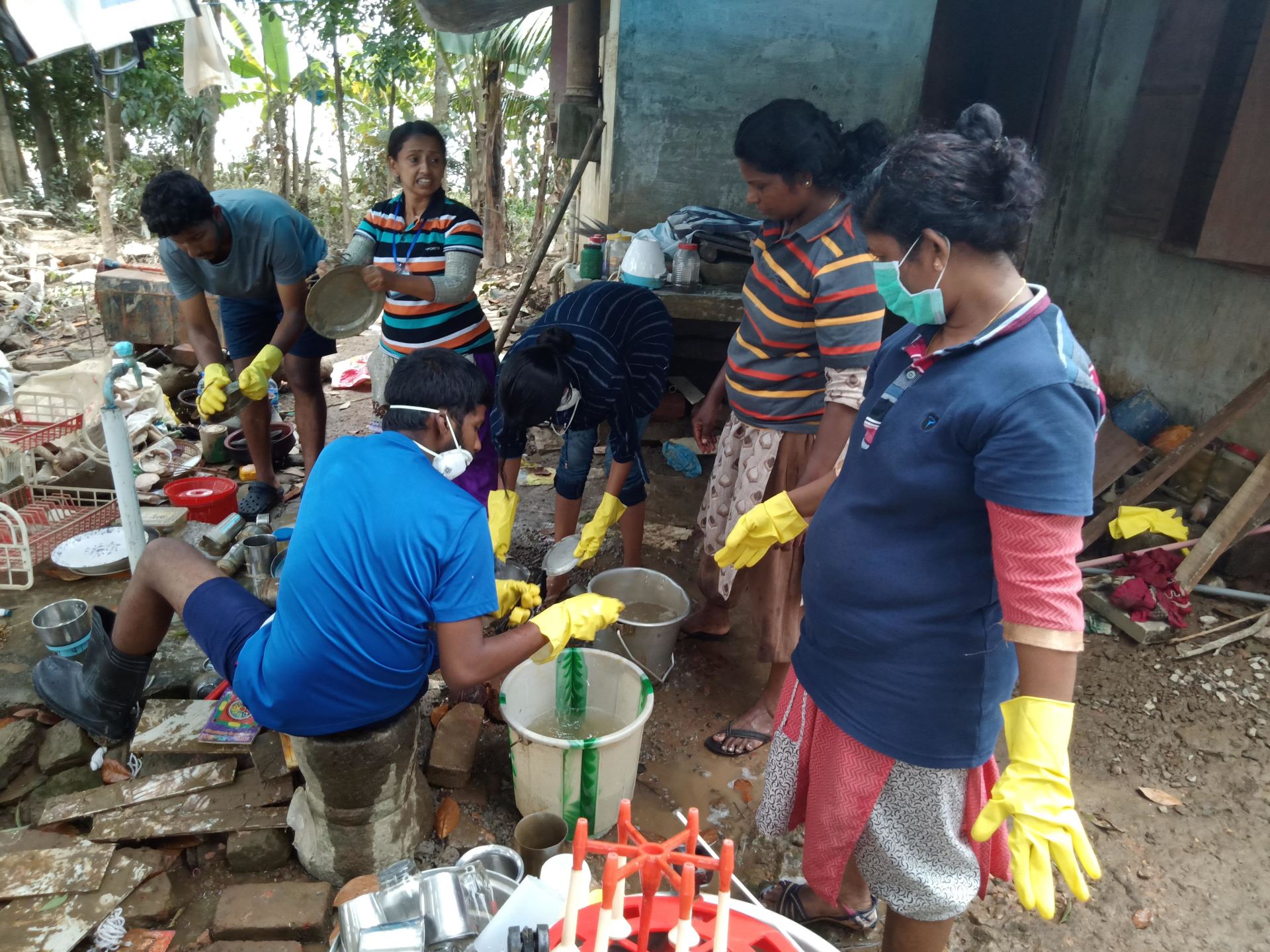 Let me start by thanking you all brothers and sisters for the incessant prayers sent up to our Father God. He has graciously heard and answered those prayers. The rains have reduced, enabling some much needed relief work to proceed.
So far many disciples from various cities have come together forming teams and have gone to different parts of Kerala to provide basic need kits and help out in cleaning work.
A lot remains to be done. In some parts flood water is yet to recede. Here is a first hand personal update by Twain Taylor, a volunteer from Bangalore:
We visited Chengannur near Kottayam. We were a team of 13 from Bangalore, and we were joined by 10-15 people from Kottayam. I got to do two days of work and had to leave. Our team of 12 people remained there for three more days.
We cleaned about 25 homes in the first two days and our teamis still working there.
No electricity for weeks. If they turn on electricity people would get electrocuted as many wall sockets are still wet and open cables underwater. Electricity will take another two weeks to come back on.
All household things like televisions, refrigerators, mattresses, sofas, books, photographs and clothes among many other things are destroyed by water that has entered the homes. A foul smell fills the homes that were flooded. Insects are still creeping around inside.
Shops are closed. You can't buy food or essentials like groceries, diapers, etc.
Government is providing some supplies like bed sheets, biscuits, etc, but people still need help with meals. We shared our team's food with the people.
No drinking water is available. The locals wait for a water truck to pass by and rush to collect drinking water. Luckily well water is available in plenty for cleaning homes and having a shower.
Paddy fields, banana plantations and other agricultural lands are submerged in water. The whole year's crop is destroyed, entire year's labor wasted.
Vehicles are damaged. Some are working after a mechanic's visit, but many are dead – engine, battery, everything.
One lady was crying describing how her three cows died as water had reached higher than their ground floor house and they couldn't take the cows to the neighbor's first floor, where that entire street was taking refuge. The cows were her only source of income.
There is a sense of depression and mourning everywhere. One man said they can't sleep at night.
Other areas like Rani (a small town in the Pathanamthitta district of Kerala which we didn't visit) were the worst affected. Mud has buried entire homes. Those people are in relief camps. They need new homes. They've lost loved ones.
It's going to take another month for them to properly clean their home and take stock of the full damage. And then another few months to restore it all.
Photos of our trip are here: photos.app.goo.gl/dccuKwuEZtUZ1rSs7
Finally, a word of appreciation to our church which funded the trip and all the volunteers who put it all aside to go on the trip. It has touched many lives in Chengannur, Kerala.
Brothers and sisters, we often don't understand everything that happens around us. That is all the more reason for us to take it to the Lord in prayer.
Please continue to keep this in your prayers.