"But whatever were gains to me I now consider lossfor the sake of Christ.What is more, I consider everything a loss because of the surpassing worth of knowing Christ Jesus my Lord, for whose sake I have lost all things." – Philippians 3:3-11
God is bringing miracles to the University of Connecticut women's basketball team in Storrs, Connecticut.
This story begins in June 2016, when Azurá Stevens (pictured below) decided to transfer from Duke University to the University of Connecticut after her sophomore year to further her collegiate basketball career and to renew her relationship with God. She became a disciple of Jesus in high school and was a faithful member of the Triangle Church of Christ in Raleigh, North Carolina for years. However, at the time Azurá was struggling in her righteousness and needed to relocate. At Duke she was an All-ACC First Team NCAA basketball player.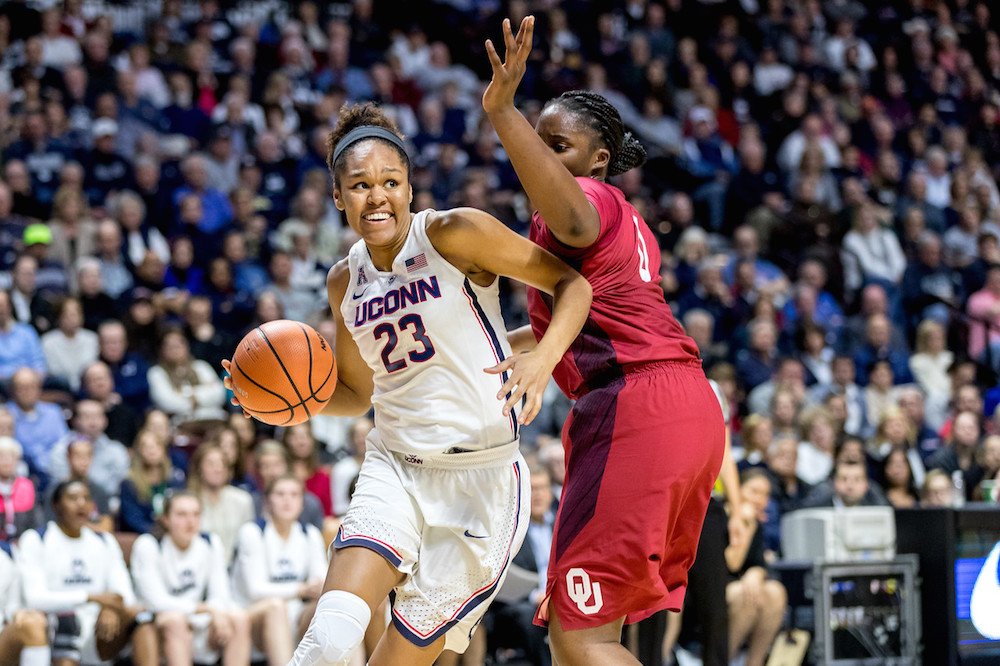 When Azurá arrived at UConn (11 time National Champions) she was informed that she would have to sit out a year from playing basketball due to NCAA regulations. This was a blessing in disguise. During this time she could practice with the team but couldn't play in games or travel, which allowed her to dig her roots deep in her relationship with God and build quality relationships with disciples in the Storrs campus ministry of the Greater Hartford Church. Unfortunately, in 2017 UConn fell short in the NCAA tournament but immediately afterwards Azurá used the humbling circumstances to share the gospel. The following Sunday, which was Easter, one of her teammates named Gabby Williams attended church with her for the first time. God had been working in Gabby's heart (Gabby is a First Team All-American, Defensive Player of the Year, two-time National Champion and currently the captain of the UConn women's basketball team). Shortly after this, Azurá shared her repentance story at church and invited her entire team to attend the service. Over half of the team was in attendance and seeds were planted in their hearts. God used Azurá's past sin, repentance and vulnerability to move people's hearts and inspire them.
During the summer (offseason for a basketball player) Gabby, as well as a few other girls on the team, began coming to church regularly and studying the Bible with Azurá and a few other members of the church. During this time Gabby grew in her faith, deepened her relationship with God and started to connect with Azurá on a spiritual level. By the time the fall semester started Gabby repented of her sin, made Jesus the Lord of her life and was baptized into Christ on September 1, 2017.
As with any young disciple, Gabby has had her challenges but has continued to grow in her faith and develop relationships in the church. Even though she and Azurá can't make every meeting of the body due to their practice schedule, games and traveling, she has continued to have her daily times with God and meets with disciples during her free times. Gabby's repentance and transformation was so radical that it inspired one of her close friends to pursue her own relationship with God, and she has been studying the Bible for two months and also wants to be baptized. Gabby and Azurá have also studied the Bible with teammates and others and prayerfully many more people will come to know God through them.
Through Azurá and Gabby, the church has been able to influence many of the people involved in the athletic program at UConn. Even though our church that meets on the campus is relatively small (43 members), it's having a big impact. God has opened many doors and continues to build our faith. We give him all the glory.
Gabby is a senior and plans to play professional basketball after this season. Wherever she goes she intends on being a light to her teammates and looks forward to being part of the church and advancing the Kingdom. In an ideal world she would play professional basketball with Azurá when she finishes her career at UConn. She's a talented athlete but more importantly an incredible person, woman of faith and sister in Christ!
Azurá and Gabby have been very successful this season and praise God for the partnership they have on and off the court. They hope for continued success but know that no awards or honors they receive from basketball can compare to having their names written in the book of life.
We hope this story inspires you and reminds you that no matter what someone's name is or what position they hold, everyone needs a relationship with their God and finds life when they find Christ.
Azurá and Gabby will be competing with their team in the Women's Final Four Semifinals in Columbus, Ohio on March 30! They are favored to win and advance to the Division I Women's Basketball Championship game on Sunday, April 1. As you follow the women's NCAA tournament this year please keep our sisters and the church in Storrs, Connecticut in your prayers!
GO HUSKIES!
See more: