The following is shared from the North River Church of Christ newsletter: This year, 35 of our campus ministry students are heading out to change the world! Our students have been preparing for months as they set off to Prague, Paris, Ghana, or Madrid during the month of June. They've been raising funds and sending up countless prayers. We are sending out these teams with confidence that God has incredible things in store for them and the churches they are going to serve. It is incredible that at North River we are so blessed and have so much to give to the hurting world around us. Please keep these teams in your prayers as they encounter new cultures, new languages, and new ways to spread the gospel!
Sydney Reese, Sam Youngblood, Michael Assan, Lauren Cicerchia, Charlene Gachoya, Ulany Wooten, Emily Snyder, Hanna Booth, Cynethia McClendon, Amanda DeLeon, and Lizzy Carrico landed on June 1 in Madrid, Spain. The team will spend most of their time on campus interacting with the Spanish students there. This church has only a few dozen disciples in membership with a majority not speaking English. Madrid is also one of the most atheistic cities in Europe with most of the youth rejecting God altogether. Our students will lead Bible discussions and spend time with the Madrid disciples. The team's prayer is to help two people they meet during this year's internship become Christians.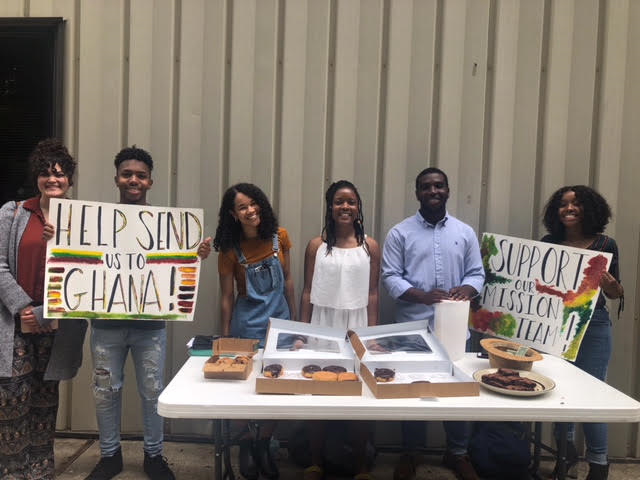 The Accra, Ghana team has been working so hard to fundraise and get their passports, visas, and immunization shots. Graham Baskin and Taonga Munjoma will be leading the team alongside Bry Ventura, Gabe Glover, Jimmie Rumph, Abigail Snyder, Jaala Holt, and Stephen Johnson. This team will spend the first two weeks in June encouraging the disciples and strengthening our connection with the Ghanaian church.
The Paris, France team will be joining our dear Tom and Cortney McGuirk. The church in Paris has about 150 members with around 35 campus disciples. Phaina Dubussion, Max Ryan, John Wells, Jacob Tevas, Haley Eskew, Tessa Frank, Kristie Richards, Chris Craig, and Nifemi will go alongside the campus disciples sharing their faith in the streets and on campus. Paris is also known to be very atheistic, but God has been moving powerfully this past year. We cannot wait to see and hear how God continues to advance his kingdom. What a privilege we have to dream God's dream to make disciples of all nations.
The incredible Prague team is gearing up to spend the month of June in the capital city of Czech Republic. Nick and Brie Shoff are leading the team along with Nikki Martin, Ansley Dykes, Matt Long, Jacob Peters, Nandi Traywick, and Owen. The team will attend the European Mission Society conference June 7-10! However, they will spend most of their time connecting with the disciples in that city and planting seeds among the campuses. This is the first year we are sending a mission internship to Prague and we are eagerly awaiting to see God infuse the city with his love. On behalf of the campus ministry, without the support and generosity of the church, our students would never have an opportunity to experience the world through the eyes of Jesus like this. We know God will use these teams in big ways as he is the God that can do more than we ask or imagine (Ephesians 3:20).